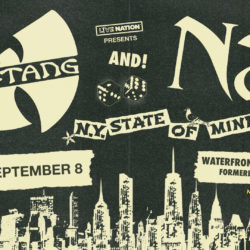 Wu Tang & Nas are coming to Waterfront Music Pavilion (formerly BB&T) on 9/8!
Enter below for your chance to win a free pair of tickets!
Wu-Tang Clan is an American hip hop group formed in New York City, in 1992. Its original members include RZA, GZA, Ol' Dirty Bastard, Method Man, Raekwon, Ghostface Killah, Inspectah Deck, U-God, and Masta Killa. Close affiliate Cappadonna later became an official member. Wu-Tang Clan are regarded as a highly influential group in hip hop, helping to popularize and develop the East Coast hip hop and hardcore hip hop styles. After signing to Steve Rifkind's label Loud Records in 1992, Wu-Tang Clan released their debut album, Enter the Wu-Tang (36 Chambers), in 1993; it received widespread critical acclaim and has since been consistently rated as one of the greatest hip hop albums of all time. Members of the group released solo albums between 1994 and 1996. In 1997, the group released their second album, Wu-Tang Forever. It debuted atop the Billboard 200 and was nominated for Best Rap Album at the 1998 Grammy Awards. The group later released the albums The W (2000), Iron Flag (2001), 8 Diagrams (2007) and A Better Tomorrow (2014), to less popularity. The only copy of their seventh album, Once Upon a Time in Shaolin (2015), was bought for $2 million. Wu-Tang Clan has introduced and launched the careers of a number of affiliated artists and groups, collectively known as the Wu-Tang Killa Bees. In 2008, About ranked Wu-Tang Clan "the No. 1 greatest hip hop group of all time". Kris Ex of Rolling Stone called Wu-Tang Clan "the best rap group ever". In 2004, NME hailed them as one of the most influential groups of the last ten years.
Nas is an American rapper, songwriter, and entrepreneur. He is regarded as one of the greatest and most influential rappers of all time. The son of jazz musician Olu Dara, Jones's musical career began in 1989 as he adopted the moniker of "Nasty Nas" and recorded demos for Large Professor. He was a featured artist on Main Source's "Live at the Barbeque" (1991), also produced by Large Professor. Nas's debut album Illmatic (1994) received universal acclaim upon release, and is considered to be one of the greatest hip hop albums of all-time; in 2021, the album was inducted into the Library of Congress's National Recording Registry. His second album It Was Written (1996) debuted atop the Billboard 200 and charted for four consecutive weeks; the album, along with its single "If I Ruled the World (Imagine That)", catapulted Nas into international success. Nas's released albums I Am (1998) and Nastradamus (1999). From 2001 to 2005, Nas was involved in a highly publicized feud with Jay-Z, popularized by the diss track "Ether". It was this feud, along with Nas's albums Stillmatic (2001), God's Son (2002), and the double album Street's Disciple (2004), that helped restore his critical standing. After squashing the feud, Nas signed to Jay-Z's Def Jam Recordings in 2006 and went in a more provocative, politicized direction with the albums Hip Hop Is Dead (2006) and his untitled 9th studio album (2008). In 2010, Nas released Distant Relatives, a collaboration album with Damian Marley, donating all royalties to charities active in Africa. His 10th studio album, Life Is Good (2012), was nominated for Best Rap Album at the 55th Annual Grammy Awards. After receiving thirteen nominations, his 12th studio album, King's Disease (2020), won him his first Grammy for Best Rap Album at the 63rd Annual Grammy Awards; he then followed it by releasing his 13th studio album, King's Disease II (2021), as the album's sequel. In the same year, his 14th studio album, Magic, was released on Christmas Eve. In 2013, Nas was ranked 4th on MTV's "Hottest MCs in the Game" list. Nas was featured on the "10 Best Rappers of All Time" list by Billboard. Nas has released fourteen studio albums since 1994, ten of which are certified gold, platinum or multi-platinum in the U.S.
Tickets on sale at www.ticketmaster.com.