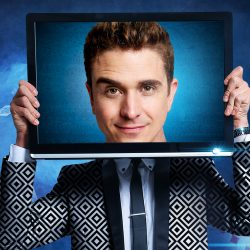 The Magic of Adam Trent is coming to Caesar's Circus Maximus Theater Saturday, August 25th!
Adam Trent shatters stereotypes and brings a new generation of magic to fans fusing technology illusions, dancing and comedy with classic techniques. Adam looks to change people's perception of magicians with his refreshing approach to magic; entertainment first and tricks second. He doesn't want people to remember "tricks" as much as the laughs and memories made with the performance. He has mesmerized live audiences around the globe, in person and as a featured guest on America's Got Talent, The Today Show, Ellen, the Travel Channel and Disney Channel among countless other TV appearances. The 32-year-old also stars in his own 10 episode TV series 'The Road Trick' on Red Bull TV.
Purchase your tickets for this fun family event NOW at ticketmaster.com or ENTER below for your chance to WIN with 96.1 WTTH!