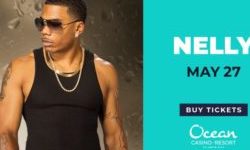 Nelly is coming to Ocean Casino Resort on 5/27.
Enter below to win a FREE pair of tickets! 
Nelly is an American rapper, singer, and entrepreneur. He embarked on his music career with Midwest hip hop group St. Lunatics in 1993 and signed to Universal Records in 1999. Under Universal, Nelly began his solo career in the year 2000, with his debut album Country Grammar, of which the featured title track and the single "Ride wit Me". The album peaked at number one the Billboard 200. It became Nelly's best-selling album to date, selling over 8.4 million copies in the United States. His following album, Nellyville, produced the number-one hits "Hot in Herre" and "Dilemma", along with the top five single "Air Force Ones". With the same-day dual release of Sweat and Suit (2004) and the compilation Sweatsuit (2006), Nelly continued to generate many chart-topping hits. Sweat debuted at number two on the US Billboard 200 chart, selling 342,000 copies in its first week. In the same week of release, Suit debuted at number one, selling around 396,000 copies in its first week on the same chart. Nelly's fifth studio album, Brass Knuckles, was released in 2008 after several delays. It produced the singles "Party People", "Stepped on My J'z" and "Body on Me". In 2010, Nelly released the album 5.0. The lead single, "Just a Dream", was certified triple platinum by the Recording Industry Association of America (RIAA); it also spawned the singles "Move That Body" and "Gone". Nelly has won multiple accolades throughout his career including three Grammy Awards and nine Billboard Music Awards. In 2005, he starred in the remake film The Longest Yard, alongside Adam Sandler and Chris Rock. He has been referred to by Peter Shapiro as "one of the biggest stars of the new millennium", and as of 2014, Nelly is ranked as the fourth-best-selling rap artist in American music history, according to the RIAA. He has 21 million albums sold in the United States. In December 2009, Billboard ranked Nelly the number three Top Artist of the Decade (2000s).
This contest is expired.