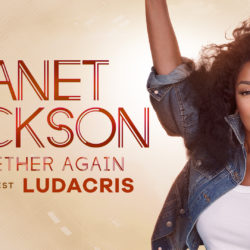 Janet Jackson brings her Together Again Tour featuring Ludacris to Hard Rock Hotel & Casino on May 20th, 2023!
Janet Damita Jo Jackson (born May 16, 1966) is an American singer, songwriter, actress, and dancer. She is noted for her innovative, socially conscious and sexually provocative records, as well as elaborate stage shows. Her sound and choreography became a catalyst in the growth of MTV, enabling her to rise to prominence while breaking gender and racial barriers in the process. Lyrical content which focused on social issues and lived experiences set her reputation as a role model for youth.
The tenth and youngest child of the Jackson family, she began performing at the MGM Grand. She starred in the variety television series The Jacksons in 1976 and went on to appear in other television shows throughout the 1970s and early 1980s, including Good Times, Diff'rent Strokes, and Fame. After signing a recording contract with A&M Records in 1982, she became a pop icon following the release of her third and fourth studio albums Control (1986) and Rhythm Nation 1814 (1989). Her collaborations with record producers Jimmy Jam and Terry Lewis incorporated elements of rhythm and blues, funk, disco, rap, and industrial beats, which led to crossover success in popular music.
Christopher Brian Bridges (born September 11, 1977), known professionally as Ludacris (/ˈluːdəkrɪs/, homophonous with 'ludicrous' in American English), is an American rapper, actor, and record executive.
Born in Champaign, Illinois, Ludacris moved to Atlanta, Georgia, at age nine where he first began rapping. He formed his own record label, Disturbing tha Peace in the late 1990s, then signed with Def Jam South, after he went on to become one of the first Dirty South rappers to achieve mainstream success with countless album releases. For his music, Ludacris has won three Grammy Awards and an MTV Video Music Award. Starting out with a brief stint as a DJ, he independently released his first album Incognegro in 1999 to local success, but achieved national attention the following year when the album was repackaged and re-released as his major label debut, Back for the First Time. It contained the hit singles "Southern Hospitality" (featuring Pharrell), which wasn't on Incognegro, and "What's Your Fantasy" (featuring Shawnna). In 2001, he released Word of Mouf, followed by Chicken-n-Beer in 2003 and The Red Light District in 2004, all of which were certified multi-platinum by the Recording Industry Association of America (RIAA). He took a more serious approach with his next two albums, Release Therapy (2006), and Theater of the Mind (2008). His next album, Battle of the Sexes, was released in 2010 and featured a return to the more lighthearted tone of his previous albums. His most recent album, Ludaversal, was released on March 31, 2015.
For tickets CLICK HERE!
Enter below for a chance to win FREE tickets!