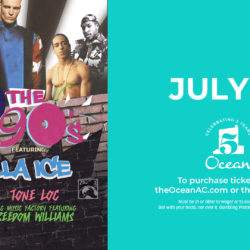 The I LOVE THE 90S TOUR is coming to Ocean Casino Resort on July 21st, 2023!
Whether you're reliving throwback favorites or experiencing them for the first time live, the I Love the 90's Tour is an experience you won't want to miss. The I Love The 90s Tour features a lineup of some of the most iconic artists of the 90s! This history-making tour brings together some of the greatest performers of the the 90s , basking in nostalgia and bringing the 90s back for an incredible show!
The tour features performances by a revolving line-up of iconic '90s artists including Vanilla Ice, All 4 One, Color Me Badd, Tone Loc, Rob Base, Young MC, Treach of Naughty by Nature, Tag Team, C&C Music Factory, and MORE.
CLICK HERE for more information and tickets.
Enter below for a chance to win FREE tickets!