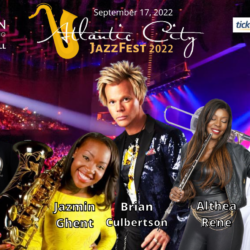 The 3rd Annual Atlantic City Jazz Festival, hosted by John Barber, Michael Tozzi and Patty Jackson, is coming to Ovation Hall on Saturday, September 17! The night will feature high energy performances by top artists including Jazmin Ghent, Althea Rene, Jeff Bradshaw, multi-platinum and Grammy nominated artist Najee, and AC Jazz Fest headliner Brian Culbertson.
Crafting a 20-album catalogue and architecting more than 30 Billboard No. 1 singles, Culbertson has charted his own unique course in music. Don't miss Brian Culbertson in Concert with special guest Najee featuring Jeff Bradshaw, Althea Rene and Jazmin Ghent, in Atlantic City!
For more information visit theatlanticcityjazzfest.com
ENTER BELOW FOR A CHANCE TO WIN FREE TICKETS!