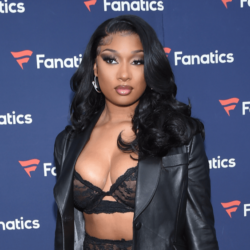 Megan Thee Stallion and Lauryn Hill will take the stage at the Preakness Live Festival, a new food, music and art event running in conjunction with the Preakness Stakes race.
The 27-year-old Megan and 46-year-old Hill will perform at the event Friday at Pimlico Race Course in Baltimore, Md., ahead of the Preakness Stakes horse race Saturday. D-Nice will also perform, along with Brittney Spencer, Darin Atwater & the Soulful Symphony, and WanMor.
The Preakness LIVE festival takes place at the Pimlico Race Course infield this Friday, May 20 with ticket prices range from $49 to $175 at preakness.com. Exact set times have yet to be announced, but both Megan Thee Stallion and Hill are expected to perform hour-long sets.
Preakness Stakes coverage will begin Saturday at 4:30 p.m. EDT on NBC. The race is expected to start at 7 p.m., with Kentucky Derby runner-up Epicenter as the favorite going into the race.
Editorial credit: DFree / Shutterstock.com