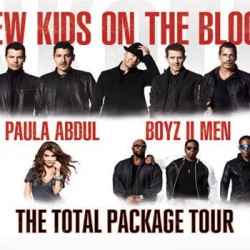 The New Kids On The Block are back in action on The Total Package Tour in June 2017 and will be joined on stage by Paula Abdul and Boyz II Men at the Wells Fargo Center in Philadelphia!
New Kids On The Block
New Kids on the Block were the pioneering boy band that laid the groundwork for the teen pop boom of the late '90s. During the New Kids' heyday, the group reportedly earned over one million dollars per week, and their string of hit singles — the bulk of which reinterpreted R&B-styled street music for a young female audience — made them one of the era's most successful acts. Following a botched attempt to rough up their clean-cut image with 1994's Face the Music, however, the boys disbanded, only to reconvene 14 years later for a comeback album and supporting tour.
Paula Abdul
In the wake of Madonna's success, many dance-pop divas filled the charts, but out of them all, Paula Abdul was the only one who sustained a career. The former L.A. Lakers cheerleader and choreographer scored her first hit in 1989, when "Straight Up" shot to Billboard's number one spot, becoming the first of four U.S. chart-toppers from her 1988 debut, Forever Your Girl; the others were "Forever Your Girl," "Cold Hearted," and "Opposites Attract," each earning a gold certification from the RIAA. This success laid the groundwork for her second act as a judge on American Idol, the televised singing competition that began in 2002 and kept Abdul in the spotlight throughout the decade.
Boyz II Men
Boyz II Men are arguably the most commercially successful R&B group of all time. They sold ludicrous numbers of records and were involved in three of the longest-running number one pop singles in history, and they did it as a unit of equals. In fact, their four-part harmonies blended so smoothly that most of the general public would be hard-pressed to name any of the group's individual members. And that's no reflection on their skill as singers; Boyz II Men were among the first male R&B artists to adopt the sort of hyper-technical melodic embellishments that were popularized by virtuosic divas like Whitney Houston and Mariah Carey. Their early music was indebted to new jack swing, but the group quickly found their forté in lush, soulful ballads, where their harmonies could be showcased to greatest effect. Boyz II Men may never duplicate their incredible run of success during the first half of the '90s, but that's a near-impossible task for anyone, even with the broad-based appeal of their clean-cut romantic image.
Now's your chance to catch ALL THREE artists on the same stage in one night!
Tickets are on sale now on wellsfargocenterphilly.com!
Enter below for a chance to win FREE TICKETS from 96.1 WTTH!